Welcome!
Welcome to the Planet of Nogales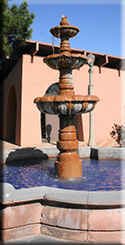 Welcome to Planet Nogales, a site dedicated to showing the unique character of the cross-border communities of Nogales, Arizona and Nogales, Sonora.
These adjoining cities are also known as Ambos Nogales, which means "both Nogales." The greater Nogales area has been called a "third country," a place that defies definition as a typical international border area – one that is perhaps not typically Mexican on one side or typically American on the other.
Since their establishment in the late 1800's, the cities have grown in similar and different ways. But despite the fact that these neighboring border cities are in different countries and separated by a border fence and federal officials, they share strong historic, cultural and personal bonds.
Original inhabitants and adventurous Anglo settlers first banded together in defense against Apache raids, and Nogales, Sonora played a key role in the Mexican Revolution of 1910 – 1920. And as the cities grew, largely because of the remoteness of the area, these international bonds have been strengthened by cooperative efforts.
These cooperative efforts have had positive and negative effects for the citizens of Nogales – positive when the cities work together to advance their joint interests, negative when entrenched paternalism and nepotism can lead to border cronyism and corruption.
To us, for all of its flaws and attributes, Ambos Nogales is a place like no other – a planet all its own.