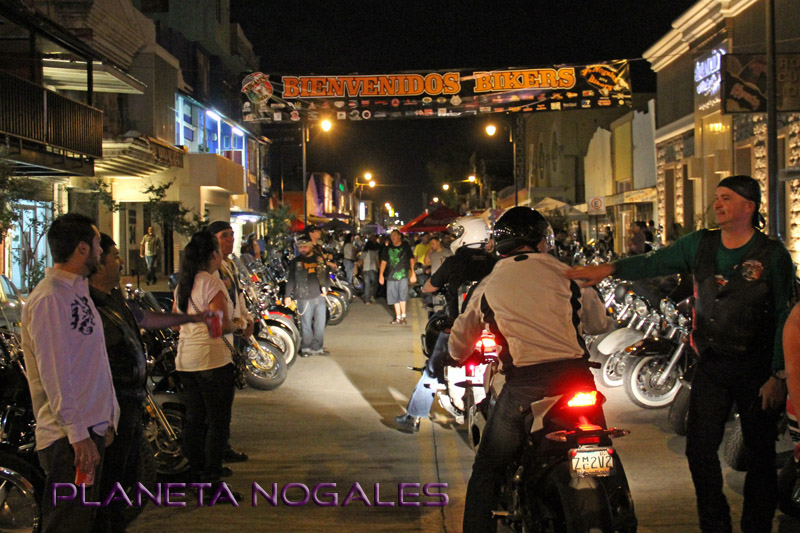 The 2015 "Nogales Biker Concentration" will be held this weekend in Nogales, Sonora. This will be the fifth year of the event, which is typically celebrated in September.
Friday night will feature a street display of motorcycles, where you can stroll in a casual atmosphere along Avenida Obregon in downtown Nogales (near the international border) and enjoy cuisine from outdoor food stands and ice cold cerveza.
The festival draws hundreds of motorcycle enthusiasts from Mexico and the United States, and always has a very casual, celebratory atmosphere.
On Friday night, in addition to enjoying a stroll among hundreds of motorcycles on display and sampling the delicious cuisine, this is also a good chance to experience a Nogales, Sonora evening event, and perhaps meet some new friends.
The location along Avenida Obregon where the Friday night festivities take place is a block south of the border wall, although to get there you will have to walk about three blocks from the DeConcini pedestrian border crossing.
To get there, after crossing through the turnstiles and passing the Mexican Customs station, continue walking straight along the pedestrian walkway. After crossing through a gate attached to more turnstiles, pass the first building on your left, then go left to walk through Plaza Pesquiera.
At the end of the plaza, you will come to a street, Calle Campillo. Go right on Campillo and walk two blocks until you reach Avenida Obregon.
The walk is along well-lit streets with lots of uniformed police around, so you should feel safe as you walk to and from the event.
We hope to see you there tonight!