Nogales Insurance
Mexican auto insurance brokers in Nogales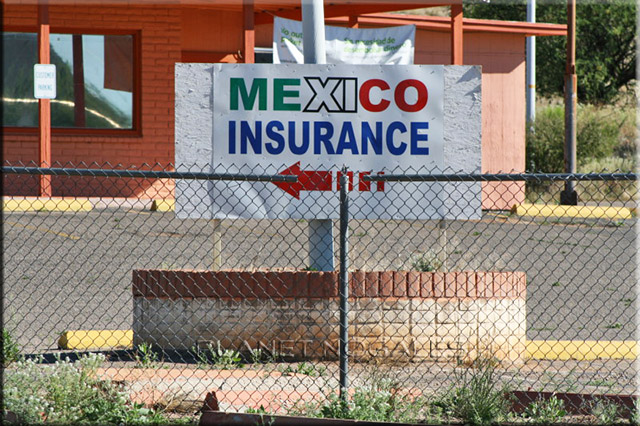 If you are planning to take a vehicle and maybe some toys like a jet ski, ATV or boat into Mexico, you will need to get Mexican insurance.
The coverage is important – not only to protect your assets, but because if you are involved in an accident in Mexico and do not have insurance, you are going to jail.
Mexican authorities typically don't ask to see proof of insurance (unless there has been an accident or incident), but it is not worth the gamble to not have it.
You can either purchase your Mexican auto insurance online, or at an insurance agency. There are several agencies in Arizona that offer Mexican insurance, we have listed a few here from Nogales and Tucson.
Mexican insurance brokers are knowledgeable about legal limits for insurance coverage in Mexico, and will help you to find the right amount of coverage for your possessions, at the right price. There is not typically a lot of price variability between Mexican insurance brokers, but if you shop around you can get a better deal at some agencies than others.
And if amenities are important to you, some Mexican insurance brokers offer additional benefits, such as Sanborn's "Sombrero Club," where you get free maps, travel guides and other perks.
And one more tip for purchasing your Mexican insurance – if you are planning on spending more than a few days in Mexico with your vehicle over the course of six months of a year, it's typically much less expensive to purchase a six- or twelve-month policy.
Nogales, Arizona Mexico Insurance Agents
Arriba Mexican Auto Insurance
1680 N. Carl's Jr. Drive
Nogales, Arizona 85621
(520) 281-9855
Don Smith Mexico Auto Insurance
475 W. Mariposa Road
Nogales, Arizona 85621
(520) 281-2268
Multiple Insurance Services
2651 N. Grand Avenue
Nogales, Arizona 85621
(520) 281-4245
San Xavier Mexico Insurance
1777 N. Frank Reed Road
Nogales, Arizona 85621
(520) 377-0424
Sanborn's Mexico Insurance
850 W. Shell Road
Nogales, Arizona 85621
(520) 281-1865
Sanborn's Mexico Insurance
2921 N. Grand Avenue
Nogales, Arizona 85621
(520) 281-1873
Mexico Insurance Agents in Tucson
DM Vasquez Insurance Agency
2702 N. Country Club Dr.
Tucson, Arizona
(520) 319-2443
Sanborn's Mexico Insurance
2900 E. Broadway Blvd.
Tucson, Arizona
(520) 327-1255
Sanborn's Mexico Insurance
7364 N. La Cholla Blvd.
Tucson, Arizona
(520) 742-7900